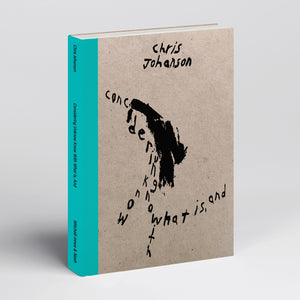 Chris Johanson
Considering Unknow Know With What Is, And (2023)
Publisher: Mitchell-Innes & Nash
Dimensions: 28 x 21 x 2 cm
Paperback: 125 pages
ISBN 978-1734405248
Chris Johanson is known for a style of painting that depart from more academic approach, embracing instead the situations, emotions and people in his surroundings. Using painting as a tool to be able to understand and contextualising his own position within the world, this means of knowing is thus passed on to us, through the work, allowing us to see it through our own eyes and our own experiences.

Focusing on the urban realities and identities found along the West coast, problems of alienation, the need to conform, self-delusions and other similar anxieties are shown in an unflinching manner, often through the means of text or speech bubbles. This direct approach to these difficult subjects is juxtaposed by Chris Johanson's playful aesthetic and use of found materials. Wood, drop cloth, paint and other elements come together to create a vivid and compelling experience. By breaking away from the traditional two-dimensional idea, the result is a more sculptural and atmospheric style of painting that we are invited to explore.

Chris Johanson (b. 1968, USA) has become one of America's most challenging painters. A fundamental figure within the San Francisco Mission School, he has had recent solo presentations at LA MOCA Pacific Design Center (Los Angeles), the Tang Teaching Museum and Art Gallery (Saratoga Springs), Portland Museum of Art (Portland) and Malmö Konsthall (Malmö), as well as group presentations at Louisiana Museum of Modern Art (Humlebæk), SFMOMA (San Francisco), Museum of Contemporary Art (Chicago), CCA Wattis Institute for Contemporary (San Francisco), MCA Chicago (Chicago), and the Whitney Biennial (New York), Istanbul Biennial (Istanbul) and the Berlin Biennale (Berlin). Johanson's works can be found in the public collections of Hammer Museum (Los Angeles), San Francisco Museum of Modern Art (San Francisco) and the Whitney Museum of American Art (New York) among others.