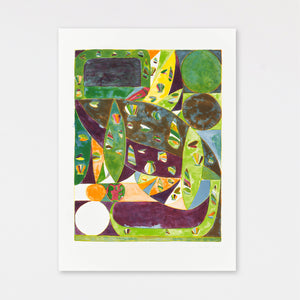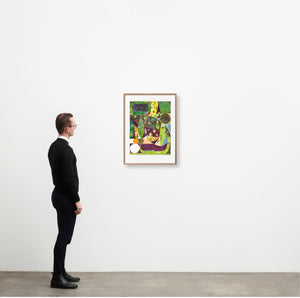 Alexander Tovborg
Bocca Baciata (grøn, blå) (2013)
Limited edition
Litograph
69 x 50 cm
Edition of 120
Signed and numbered

Important info: as stated in our Terms & Conditions, if you order this print and then decide to cancel, we charge a 5% cancellation charge to cover the refund fees we incur
This artwork is sold unframed.

Terms and conditions


Taking as his starting point history, mythology, religion, as well as written and oral narratives, Alexander Tovborg draws on the stories that have come before us in order to explore and re-contextualise classical archetypes. In looking at the ways through which we have built our narratives in the past, he proposes a new reading of our current social and political situation, examining who we are and where we find ourselves today.
His laborious and layered practice is such that he begins to embody the people that he is focusing on—going through the arc of their stories, adopting their beliefs, their causes and their pain. Using borrowed and created symbols in a rhythmic and insistent manner, Alexander Tovborg creates a kind of visual language which runs throughout his work, spanning different series and figures. This visual language connects the work, but also connects the differing narratives, reminding us of the similarities which run through many of the world's origin stories.
This emphasis on the various symbolisms that are found throughout these ancient narratives is something that Tovborg sees as essential to his practice, as he asserts the weight and power that images have within our contemporary culture, as well as how easily they can manipulated and used against us. Acting on their behalf, Tovborg engages in an effort to keep their meanings open, giving us each the chance to see in them all that they encompass.

Alexander Tovborg (b.1983, Denmark) graduated from the Royal Danish Academy of Fine Arts in 2010. With solos at Overgaden (Copenhagen) and GL Strand (Copenhagen), Tovborg has shown at ARKEN (Ishøj), ARoS (Aarhus), IMMA Museum of Modern Art (Dublin), Spiritmuseum (Stockholm), Holstebro Kunstmuseum (Holstebro), KØS (Køge) among others. His works are represented in the public collections of Hammer Museum (Los Angeles), ARKEN (Ishøj), ARoS (Aarhus), and Museet For Religious Kunst (Lemvig). In 2019 he will open an exhibition at Rudolph Tegner Museum (Dronningmølle).