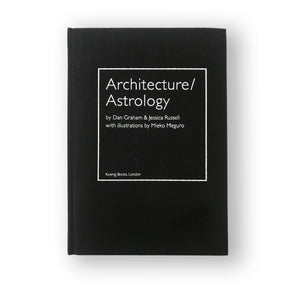 Dan Graham
Architecture/Astrology (2014)
Publisher: Koenig Books
Editor: Sylee Gore
Authors: Dan Graham and Jessica Russell
Illustrations: Mieko Meguro
Design: Carmen Strzelecki
Dimensions: 17 x 12 x 1 cm
Hardback: 60 pages
ISBN: 978-3-86335-544-9
First published as a column for Domus magazine, 2011-2012.
Since the 1960s, Dan Graham has been a seminal figure within the world of contemporary art. Exploring the dynamics that find themselves at the intersection of art, architecture, pop culture, social spaces and social engagement, his succinct and paired down aesthetic allows our attention to focus on the experiences and ideas that develop as we interact with his work and thus become integral to it.
Through essays, videos, performance, photography, curatorial projects and his now iconic pavilion installations, Dan Graham's work has inspired generations of artists and his influence is felt well beyond the boundaries of visual arts.
Dan Graham (b. 1942, USA) has received international acclaim for his works and exhibitions, with permanent public projects in cities around the world. His work can be found in the collections of MoMA (New York), MOCA (Los Angeles), Tate Britain (London), Hamburger Kunsthalle (Hamburger), Inhotim Centro de Arte Contemporanea (Brumadinho), Kunsthaus Bregenz (Bregenz), Louisiana Museum of Modern Art (Humlebæk), San Francisco Museum of Modern Art (San Francisco), the National Gallery of Canada (Ottawa), Museum of Contemporary Art (Tokyo), Stedelijk Van Abbemuseum (Eindhoven), Kunsthaus Zurich (Zurich), Tel Aviv Museum of Art (Israel), Wanås Foundation (Knislinge) Museum fur Moderne Kunst (Frankfurt), SMAK Stedelijk Museum voor Actuele Kunst (Ghent), Musee d'art Contemporain Lyon (Lyon), Museu d'art Contemporary de Barcelona (Barcelona), Julia Stoscheck Collection (Dusseldorf), the Hirshhorn Museum and Sculpture Garden (Washington) and the Museum of Contemporary Art Chicago (Chicago) among many others.
Graham has had notable recent solo exhibitions at Red Brick Art Museum (Beijing), Sirius Arts Centre (County Cork), MAMO (Marseille), the Metropolitan Museum of Art (New York), Turner Contemporary (London), Museum of Contemporary Art Zagreb (Zagreb), Institute for the History and Theory of Architecture (Zurich), Museum de Pont (Tilburg), Museum of Contemporary Art (Los Angeles) and the Whitney Museum of Art (New York).